BORA Pure - available now!
A class of its own. – A trademark of your kitchen.
BORA Pure stands for simple, minimalist design. It can be customized by choosing different colourful air inlet nozzles, so you can easily add personal touches.
Intuitive sControl control
All of the cooktop extractor system's functions are at your fingertips via the vertical slider, by simply swiping up or down or tapping the surface directly with your finger.
Oversized cooking areas
Thanks to the central operating panel and the optimum arrangement of the cooking zones, BORA Pure offers room to cook with 4 large pots measuring up to 24cm at the same time.
Automatic extractor control
The extractor power level automatically adjusts itself according to cooking conditions. Once activated, there's no longer any need for manual adjustment.
Minimalist design
The cooktop and extractor are ideal for flush installation. When on standby, the operating panel is virtually invisible and during operation it is scaled down to the essentials thanks to intelligent lighting.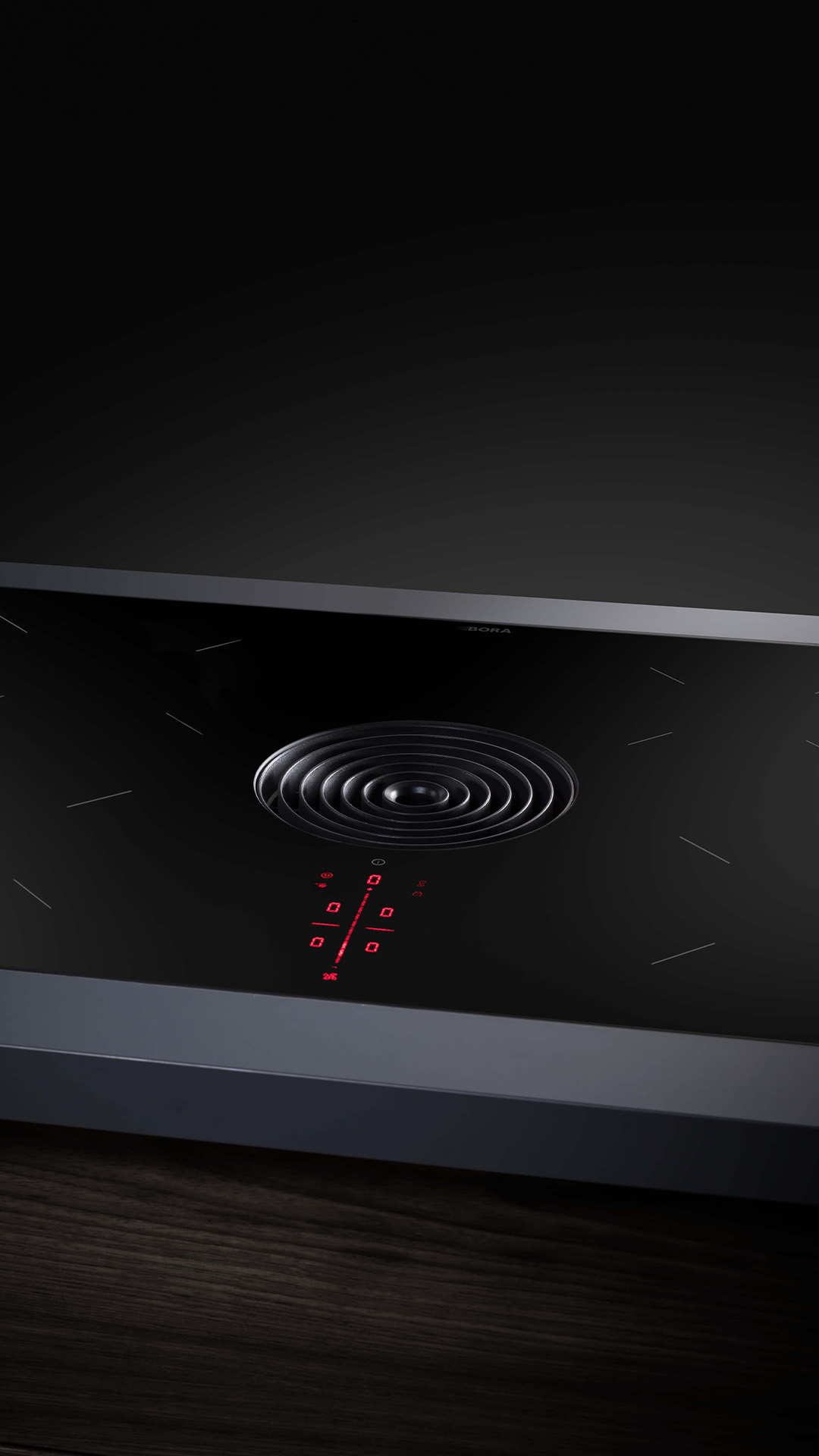 Add some colour to your kitchen
The system's colourful air inlet nozzle is a real eye-catcher. Available in five colours, this stylish flourish is simply unique and gives any kitchen its signature look. Comes in black, greige, red, blue, orange, jade green, light gray and sun yellow.
The name says it all
BORA Pure is the epitome of minimalist design that blends in perfectly with any kitchen.
Find a retail partner now
Find a retail partner near you to discover the quality of our products up close and see how they work for yourself.
Information on recirculation and exhaust air
Flyer BORA Pure
All information about features, the product range, the exclusive BORA warranty and the events can be found in our flyer.
Service & Help
Via customer service you can create a service ticket or extend your warranty. In the download area you can find all information and documents about our products.